Stúdíóljós
This system has 2 strobe lights each provide 110w/s output power (110 joules) on full power and GN 105 feet at ASA 100. It features:
Built-in reflector and power cable.
Remote sensor(For cordless strob)
Full and 1/2 power setting options.
75W Halogen Modeling light.
Recharge readylight.
Two-way fixing stand adapter.
Easily changeable fuse holder.
Fast recycle time:1-3 seconds.
5600K color temperature

This kit also includes the following accessories:

Two 3 section light stands that can be extended to 7 feet high.
Two BIG 36" umbrellas, one Silver, one White.
Two 75W modeling light bulbs.
Two extra long 15 feet flash cords connect your camera and the light.
One carrying case.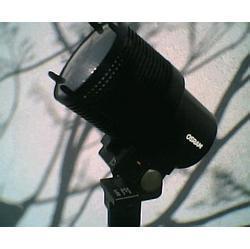 Osram SLV1000
1000 watta Spot/Reflector